7530 Little River Turnpike in Annandale, VA is where you will find Annandale Swim & Tennis Club.  We have been a part of the greater Annandale Community for many decades.  We are Annandale's hidden oasis, providing members a gateway to summer fun.  The club is centered on our swimming pool which includes an L-shaped swimming pool configured for NVSL competition swimming and diving.  Our diving well has a large slide for both adults and children to zip on down into the pool.  For those with younger children, we have an enclosed baby pool for children 5 and under.  A unique feature of our pool is our transition pool, a 10 meter long pool just adjacent to our big pool which has steps on either end.  It is a great place for budding swimmers to fine tune their skills, before jumping into the big pool.
Located at 7530 Little River Turnpike in Annandale, VA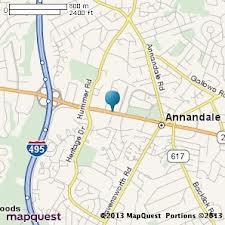 Our facility boasts one of the best green spaces in Annandale.  The main reason our members call it Annandale Hidden Oasis.  The grounds of the pool include a mixture of spaces for those want to worship the sun or for those that prefer to read a book under one of our huge shade trees.  In addition to the pool and green space, we have two tennis courts recently resurfaced.  The courts are open all year round to members and are fitted with lighting for playing at night.  Finally, the pool includes a basketball and volley ball court, swing set, and a child's playhouse area and castle.
Click here to get directions from Google.
Stop on by and take a walk through. Contact Tom Martindale for more information @ ast.membership@ast22003.org
Other Important contacts @ AS&T
President:  Tom Martindale at ast.membership@ast22003.org
Swim Team: Maureen Carlstrom    703-409-6008  or via   swimteam@ast22003.org
Dive Team:  diveteam@ast22003.org
Tennis Coordinator: Michelle Shepard   703 503 1229  or via   tennis@ast22003.org