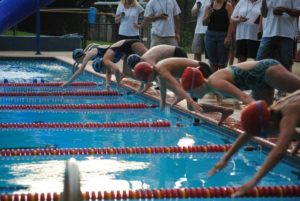 To Register for Swim, please click here!
General Information:
Practices begin Tuesday after Memorial Day and go through July 28th.  The practice schedule is as follows:
Tuesday, May 30th through Friday, June 23rd (Monday – Friday)
13 Years and Older                 3:45 – 5:00 PM
9-12 Years                               5:00 – 6:00 PM
8 Years & Under                     6:00 – 6:45 PM
Monday, June 26th through Friday, July 28th (Monday – Friday)
8 Years and Under      7:45 AM – 8:30 AM
9-12 Years                   8:15 AM – 9:15 AM
13 Years and Older     9:15 AM – 10:30 AM
Tuesday, June 27th through Thursday, July 27th (Tuesdays and Thursdays)
All Ages                      5:00 – 6:00 PM
With the afternoon practices, we are hoping that swimmers who cannot make the morning practices will also be able to participate. This should increase our team roster and give everyone a chance to swim in either an A Meet or a B Meet.
A Meets are on Saturday mornings
B Meets are on Monday evenings
Our intermediate swim team program Little Tides will continue to focus on stroke improvement and competition swimming (5-7 years). Beginning swimmers should sign up for Little Tides.
Practice begins June 27 and go through July 28
Days and times are Monday – Thursday from 10:30-11:00 AM
New swimmers will be getting a team t-shirt and 2 new silicone swim caps. Make sure to include t-shirt sizes on your order form.
This will be another fun filled season and we hope to see swimmers from last year as well as NEW swimmers. Along with daily swim practices and weekend swim meets, there are other fun activities planned. This year the swim team will be using SwimTopia for swim team management.  Please visit AST Red Tide Swim Team management site for more information about volunteering this season  Many hands make light work.
All children are encouraged to join the swim team, develop a useful lifetime skill, be part of the team spirit, and have a lot of FUN this summer.
AS&T Swim Team Registration forms
For more information contact: Ann Kim at ast22003@gmail.com