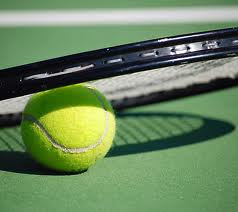 About our Programs
AS&T offers both youth and adult tennis programs.  Whether you or your child desire to be USTA-rated or just want to learn the basics, we have a program for you.
Youth Tennis
Looking for a sport to last your children a lifetime?  Our Youth Tennis Lessons teach children of all ages a love of the sport.  Starting with Tot Tennis Lessons children are introduced to the basic grip hold, strokes, and rules of the game in a fun, age appropriate manner.  Level I and Level II move forward with an emphasis on more intricate stroke work and serving, as well as beginning match play.  Advanced Lessons will stress match play with a refinement of strokes and serving.  All these skills are mixed in with games to make the children's experience both worthwhile and fun!
Visit the store to purchase Tennis Lesson registration.
Adult Tennis
Women's Tennis
Women's Tennis will begin on Sunday June 11th from 7-8pm.  The eight week one hour lessons will cost $80 for the session (there will be no lessons on June 18th and July 30th).  If you have always wanted to give tennis a try or just brush up on your skills, this is the perfect way to get back out on the court.
Visit the store to purchase Tennis Lesson registration.
For more information on Youth or Women's Tennis, please contact: Becky Fornaris at astmembership@gmail.com or call (703) 503-1229.